Products tagged with '1065 high carbon steel blade'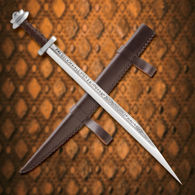 #501531
This Viking knife has a 23" long blade decorated with runes. Leather-wrapped grip and matching brown leather scabbard and two hanging straps. Overall length 29-1/4 inches.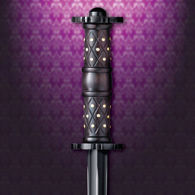 #404209
This dagger has a long, straight triple-edged and blackened 1065 carbon steel blade. Rosewood handle with brass pins. File work embellished double dish guard and pommel. Matching leather and steel sheath with hanging chape included. Overall 16-1/2 inches.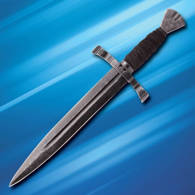 #404231
Orders placed now will start shipping late Sept 2020.

The double-edged War Dagger has a 1065 high carbon steel blade tempered to a low 50s RC. Battle-hardened finish with a blue patina and peened full tang. Matching scabbard, custom packaging and certificate of authenticity included. Overall length 15 inches.