We carry replica gun parts from 20th century wars. Made with accuracy from various countries, they are perfect to outfit WWI & WWII re-enactors, collectors, to use as props and for display. Find slings, butt stocks and other accessories to complete your collection.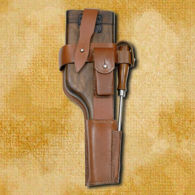 #803408
This is hand-crafted wood buttstock holster comes with a leather belt harness and cleaning rod. It works with all model Mauser C-96 Broomhandle, Bolo, etc. with 10 round magazines.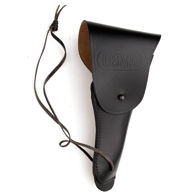 #803384
This USMC Officer's Holster is designed to fit Beretta 92, Glock, Gold Cup Style and similar models. Made from top-grain heavy leather with a warm satin finish and sewn with waxed linen thread, it comes complete with leather leg-thong.