20th Century War Knives, Daggers & Swords
Find unique cutting tools and weapons from WWI, WWII and other 20th century conflicts that exhibit how brutal and elegant the fighting had become. From the trenches to the all out frontal assaults, you will find an array of expertly crafted reproduction weapons for combat and survival. Find US, German and British military replica knives from all branches of service.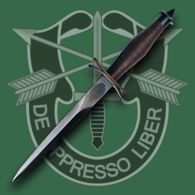 #803406
This faithful reproduction of the V-42 WWII knife has a sharp double-edge blued blade made of 1095 high carbon steel. Comes with a top grain leather scabbard with steel reinforcing, fits belts up to 3" wide, and leather leg thong.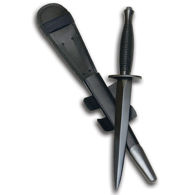 #402538
This knife was the preferred commando weapon in World War II for both the U.S. and British Commonwealth Forces. Overall 11-3/8 inches. Arrives sharpened from the factory.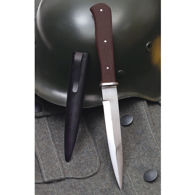 #402708
This full tang WWII replica knife features a hardwood grip. Black finished metal sheath included. Overall 10-5/8 inches.