American Frontier Weapons, Axes, Tomahawks
Odd pieces we love which show the ingenuity of the time, including nonfiring guns, tomahawks, axes and canes.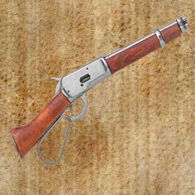 #802132
From the TV series "Wanted Dead or Alive", this is a must have classic for the old west collector. Our authentic non-firing model features an antiqued grey receiver with saddle ring, working lever action, and more.