James Bowie created a legend about himself and the knife he used in a hand-to-hand fight in Mississippi in 1827. What that knife looked like was soon lost, but the legend continued to grow. Bowie knives were in high demand, worn at the sides of members of Congress as well as barroom trash. The authentic Bowies by Windlass Steelcrafts are from America's past and hand forged from well-tempered steel to take and hold a razor edge. Most come with a leather sheath. Find great Bowies from Cold Steel and other great knife makers too!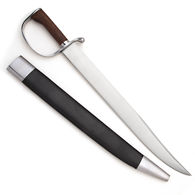 #400928
This knife was popular during the Civil War for its all-purpose capabilities and an effective backup weapon. Countered wood grip. Leather sheath included. Overall 23 inches.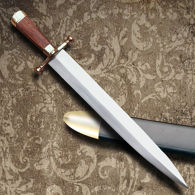 #400260
This is a classic design that is as functional as it is good looking. Rugged and solid in the hand, the coffin shaped hardwood handle is accented with solid brass furniture. A must for every re-enactor or collector of American history.