Buy antique knives, kukris, and accessories, many from the British Empire lost arsenal found at the royal palace of Lagan Silekhana in Nepal, at Atlanta Cutlery.
Lagan Silekhana is a 19th-century wooden palace that housed British and American muskets, rifles, cannons, and bayonets that had seen action in the Napoleonic wars and the U.S. revolutionary and civil wars.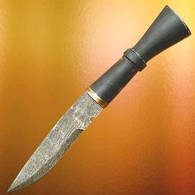 #402042
This hand forged antique has a genuine horn handle and dates from the 1800s. They are generally 7-3/4" long with 3-1/4" blades and solid brass furniture. Generally good condition.