Products tagged with 'colonial'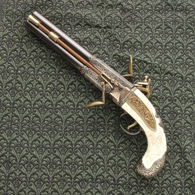 #803713
This beautifully engraved non-firing colonial flintlock pistol features rotating double barrels with separate pans, dual-tone finish on metal furniture, and engraved metal butt plate and grip. Wooden ramrods remove, parts function.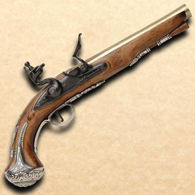 #803544
This non-firing replica has all of the features of the original, including the George Washington nameplate on the grip. Solid wood stock. All parts move properly.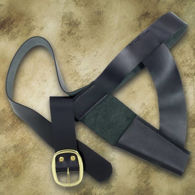 #802276
This replica belt holster fits Brown Bess and similar muskets. Made up of top-grain black leather, it has a brass buckle and fits waists up to 52". Like the originals, it has a sewn-in bayonet frog and there are no holes for the buckle. You can create a custom fit by adding your own with an awl or similar tool.