Products tagged with 'dagger'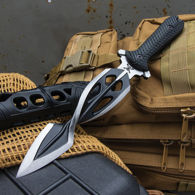 #404583
The twisting blade on this dagger has a two-tone satin and black oxide-coated finish and it narrows to a penetrating point. The edges are positioned perfectly for maximum damage. The overall weight of the dagger is reduced by the partial skeletal design of the blade.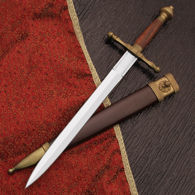 #404485
This long dagger has an unpolished stained wood grip and low-sheen brass fittings. The brown leather scabbard complements the dagger fittings with a brass chape and throat with a roaring lion's head belt hook, befitting a nobleman. Comes factory sharp.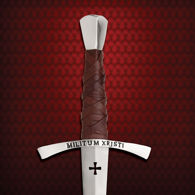 #404501
This Dagger is a companion to the Faith keeper Sword, the high-carbon steel diamond cross-section blade on this dagger has a pierced cross of the Knights Templar at its ricasso. The pommel features a reversed inset image of the Signet of the Knights Templar, which can be used as a wax seal. The crossguard is inscribed on both sides with the Latin phrase Militum Xristi, "Seal of the Soldiers of Christ." Comes factory sharp.