Products tagged with 'dress sword'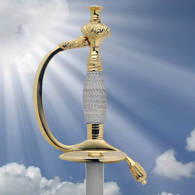 #501080
This regulation US Army NCO sword has a tempered steel blade with mirror finish. Features a solid brass pommel & 24K gold plated guard fittings with a wire wrapped grip. Available in 4 blade lengths: 28", 30", 32" or 34". Includes the government specified scabbard.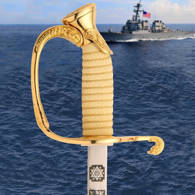 #500298
This US Navy Officer's Saber is manufactured according to exacting government specifications. Filigree work shows "USN" on the hilt. Includes government spec scabbard. Available in 4 blade lengths - 28", 30", 32" or 34".

Happy Birthday US Navy. Resilient and Ready! On October 13th, the US Navy celebrates its 246th birthday. To commemorate this occasion, now through October 27th, you can add engraving in the sword etch box, up to 25 characters, FOR FREE.