Fantasy swords and fantasy weapons are your standard weapons taken up a notch. So much so, many are considered works of art or metal sculpture. Pop culture has helped greatly fuel these amazing pieces. Inspiration is taken from the works of JRR Tolkien, Robert Jordan, Brent Weeks, RR Martin, Frank Frazetta, Edgar Rice Burroughs and more contemporary designers like Kit Rae and our own design team. The Lord of the Rings and Hobbit, Highlander, Last Samurai, Walking Dead and so many others feature fantasy versions of swords which have inspired so many artists. Myth and legend have their place also with the likes of Excalibur, Kusanagi, Wonder Woman, Robin Hood, Princess Bride Inigo and the Dread Pirate Roberts, Durandal, Three Musketeers, Don Quiote, Chronicles of Narnia, John Carter of Mars, and Kingdom of Heaven. 

They start in reality and quickly become a work of art in the right hands. Our fantasy swords call on elves, orcs, ogres, dragons plus great warriors, mythical kings to capture the fierce, passionate nature of these beings.

Collecting these spectacular swords has grown over the years and if you want sci-fi, legendary, horror, or even gothic swords Atlanta Cutlery (ACC) is your source. We sell many different brands of fantasy swords, ranging from makers such as Kit Rae, United Cutlery, Master Cutlery, JALIC and Windlass Steelcrafts.

We feature items from Assassin's Creed, Game of Thrones, Walking Dead, Hobbit, Conan, Death Dealer, The Vikings, 47 Ronin, King Arthur and his knights of the round table and others. Often made from high grade stainless steel or high carbon steel with metal fittings and leather and wood accents, they employ many of the same materials as their historical counterparts. They are in many cases not only beautiful, but fully functional works of art.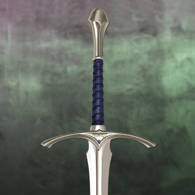 #501424
This authentically detailed replica is a reproduction of the actual filming prop built used in the motion picture "The Hobbit: An Unexpected Journey". The Glamdring sword has solid metal hilt parts, faux blue jewel gemstones and a genuine leather-wrapped grip. It includes a wood wall display and certificate of authenticity.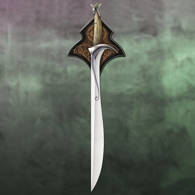 #501426
This fantasy sword features a tempered AUS-6 stainless steel blade with an etched runic inscription. The hilt is crafted with solid metal parts, simulated gemstones and an acrylic resin grip. It is presented with a wood wall display with silk-screened graphic and includes a certificate of authenticity.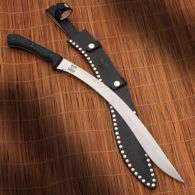 #403158
Based on the ancient Greek Kopis, this Windlass Cobra Steel sword has tremendous chopping power. Features weather resistant rubber handle for comfort, positive grip and shock absorption on a full profile tang. Factory sharp, includes riveted black leather sheath.