Products tagged with 'high carbon steel dagger'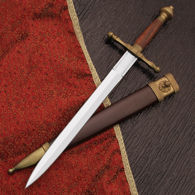 #404485
This long dagger has an unpolished stained wood grip and low-sheen brass fittings. The brown leather scabbard complements the dagger fittings with a brass chape and throat with a roaring lion's head belt hook, befitting a nobleman. Comes factory sharp.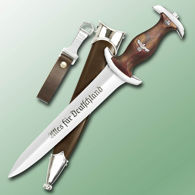 #420016
An exacting replica made of high carbon steel blade. It features a SA runes button, a high-necked grip eagle, a typical RZM grip and gray nickel-plated surfaces.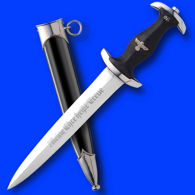 #403620
A museum quality dagger made of high quality carbon steel. Comes with black wood grip and steel scabbard. Overall 13-5/8 inches.