Atlanta Cutlery carries reproduction gun holsters, magazine pouches, belts and slings for the re-enactor and collector.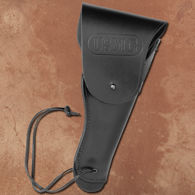 #803382
This USMC Officer's Holster is designed to fit standard 1911 style handguns. Made from top-grain heavy leather with a warm satin finish and sewn with waxed linen thread, it comes complete with leather leg-thong.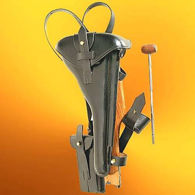 #803370
This high-quality reproduction Artillery Luger holster has a 14-1/4" paddle-style, satin-finished wood stock and blued steel attaching hardware. All leather is top-grain with a semi-gloss black finish, includes a dual mag pouch, shoulder strap, and cleaning rod with barrel shaped handle. Made by Windlass Steelcrafts.