Products tagged with 'keychain knives'
Having a keychain knife with you is very useful. They are tiny and discreet but ready for action when needed. Perfect for those little jobs!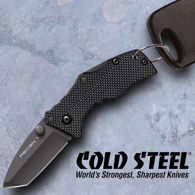 #403673
Micro Recon 1 key ring knife by Cold Steel is made with Japanese AUS 8A stainless steel and faux G-10 scales contoured on a non slip grip. Comes with thumb stud and a key ring. Overall just 4-3/8 inches with a 2 inch blade.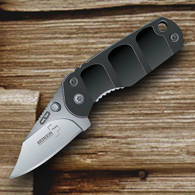 #403253
The term EDC gets a whole new dimension with this Boker CLB Keycom knife. With a compact size of just over 2-1/4" closed, the Keycom can be conveniently carried on the included key ring. Thumb stud opener, frame lock mechanism, fiberglass reinforced nylon scale, pocket clip for tip-down carry. Blade is bead blasted AUS-8 steel.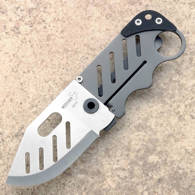 #403222
Small enough to be carried in a wallet, the blade on this knife is large enough for big cutting chores and slotted to lighten the weight. The included pocket clip can easily be removed to make the knife just 3/32" thick for practical wallet carry.