Last Chance Clothing & Accessories
If you don't look the part yet, you need to finish off your costume or display with these items while you can.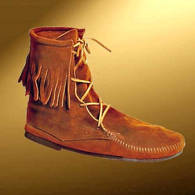 #100294
Perfect for rendezvous, frontier outfits, or just plain comfort, these well-made boots are cut from the best glove-tanned leathers and have an all-suede finish. Inside is a 1/8" thick cushioned insole. They have a comfortable rubber sole, so you can wear them all day long.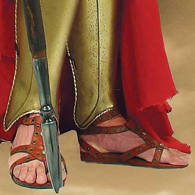 #100958
These brown sandals complete the Spartan Warriors ensemble. Great for a variety of classical Greek and Roman costumes!