Last Chance Other Weapons & Accessories
The odd item that simply doesn't fit anywhere else.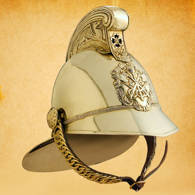 #300200
This style of brass helmet was first introduced in 19th century Victorian England and saw active service through WWII. Features a flourish of crossed axes and fire hoses ringed with a floral motif. Brass-scaled chin strap.
#600967
This reproduction Fireman's axe has a curved hard wood shaft and high carbon steel head with a massive 9" axe face and 5" spike.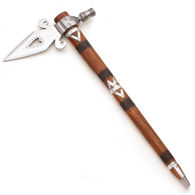 #600244
This tomahawk is hand-forged with a high carbon steel blade. Handle has cross-hatched bands and metal inlays. Overall 22 inches.