Atlanta Cutlery carries a variety of reproduction collectible locks and keys.
Whether you are using it for a pirate voyage, finding the best means to escape or hoping to unlock some lost, buried treasure or on some fantasy quest to find a lost princess, this rare-to-find selection of locks and keys are your perfect talisman.
All of them are great conversation pieces or accessories to an outfit. Use them as a great decorator piece for your home or unlock some thrilling adventures!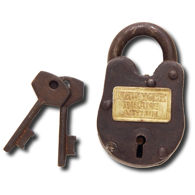 #804556
Rusted, working steel padlock with a brass plaque affixed identifying it as belonging to NY asylum. Includes 2 keys.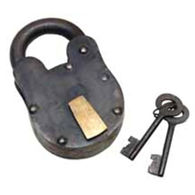 #801850
Have you been looking for the right period lock for that strong box or jail cell? Made just like the originals, this lock measures 2-1/2" x 3/4".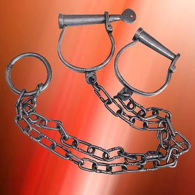 #801858
These old time leg irons are made just like the originals from iron. Great for the western enthusiasts or re-enactors.