Military and police surplus are items that are sold or otherwise disposed of when no longer needed by the military or civilian police forces. When a military force or police constabulary upgrades gear or the supplying government's contract for too many items from manufacturers, these items are often decommissioned and sold as remainders to companies and civilians to offset the costs related. We are constantly on the lookout for unique military and police surplus from not only the US military surplus, but many countries like German military surplus and British military surplus. The varied history and inventive, durable designs seen in surplus can be a real boon to collectors, survivalists, campers, teachers, and reenactors. 
Businesses often purchase these items and resell them. Usually, the items sold by the military are clothing, bags, equipment, and tools which civilians find useful, easy to use and durable, and at great savings. Individual uniform items can make for a complete faux military uniform. Occasionally, vehicles will be sold as well, like Jeeps, Humvees, trucks, planes, helicopters, and even ships. Demand for these items comes from various collectors, survivalists, and players of airsoft and paintball.
The history of military surplus in the US dates back to the Civil War; it was the first war that had proper uniforms issued for many troops. Before this, troops were basically wearing whatever they had with them or could pillage from the battlefield. As demand grew, both sides mass-produced arms and wears. After the war ended, they sold the supplies in stores to recover some of the costs. The military surplus store online as well as offline was thus born. The police and military surplus in this section are genuine and in good condition. You'll find items from WWII to present day. The Cold War era yielded many fine examples. You never know what you'll find here. We've had everything from riot helmets, military surplus boots, military surplus clothing, munitions, and shovels to canvas pup tents and safety glasses.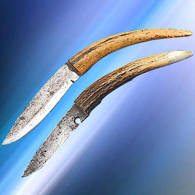 #401788
Rare original 1800s Nepalese Patch Knives. These hand forged antiques have genuine stag handles and were probably carried in kukri pouches by the Royal Guard. They are generally 6-1/2" to 7-1/2" overall, with blades ranging from 2-3/4" to 3-1/4". Good condition.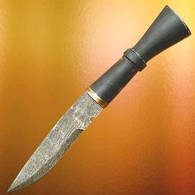 #402042
This hand forged antique has a genuine horn handle and dates from the 1800s. They are generally 7-3/4" long with 3-1/4" blades and solid brass furniture. Generally good condition.