Miniature knives, mini knives, mini pocket knife have always been collectible and believe it or not functional. There are smiths today that specialize in these little cutlery curiosities.

These miniature knives are scaled down versions of classic blade patterns and many favorite designs through history. Others are contemporary designs for today's demanding every day carry. Great for display, last ditch self defense, as gifts, functional jewelry and as utility knives. Some are folders, other fixed blade. All can do the job.

Perfectly scaled down versions of the most iconic knives in our history like the Alamo Bowie, but updated with stainless steel and real metal & wood parts. Our staff can't stop talking about these gorgeous knives. Many conveniently fit on a key chain and are so small you can carry them almost anywhere. 

They can make a great collectible for your desk. Our utilitarian versions for EDC have blades that are large enough for big cutting chores and sized to lighten the burden of carrying them. They never fail to draw conversation. There's just something about miniature knives or a mini pocket knife that seems to cute to be truly functional, yet they are.

They can be of the same materials as their bigger cousins like high carbon steel, stainless steel and authentic handle materials from traditional wood to modern steel alloy, aluminum and G-10. Just be a bit careful, they are so small and easy to carry you can forget they're there, until you need them.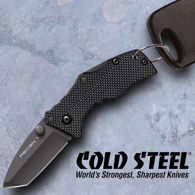 #403673
Micro Recon 1 key ring knife by Cold Steel is made with Japanese AUS 8A stainless steel and faux G-10 scales contoured on a non slip grip. Comes with thumb stud and a key ring. Overall just 4-3/8 inches with a 2 inch blade.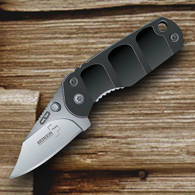 #403253
The term EDC gets a whole new dimension with this Boker Plus CLB Keycom knife. With a compact size of just over 2-1/4" closed, the Keycom can be conveniently carried on the included key ring. Thumb stud opener, frame lock mechanism, fiberglass reinforced nylon scale, pocket clip for tip-down carry. Blade is bead blasted AUS-8 steel.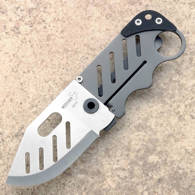 #403222
Small enough to be carried in a wallet, the blade on this knife is large enough for big cutting chores and slotted to lighten the weight. The included pocket clip can easily be removed to make the knife just 3/32" thick for practical wallet carry.