Sometimes a replica gun is exactly what you need to complete the look and feel of your historical display or collection.
Handguns have been used throughout history, both as a tool for survival and war. Atlanta Cutlery carries an assortment of replica and dummy weapons for sale ranging from Civil War revolvers to movie replica weapons like James Bond's Walthur PPK. Great for re-enactors and collectors, these non firing guns are safe for anyone to handle.
Explore our collection now!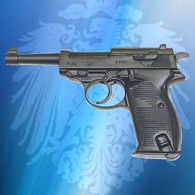 #803418
This is a full-size replica made from black finished metal with plastic grips. The Walther P-38 hammer cocks and releases in single action only. This dummy gun is perfect for collectors, re-enactors and the stage.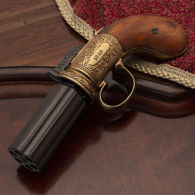 #801894
Designed in the 1830s, the Pepper Box revolver was the ultimate choice for rapid-fire, close-range personal defense. Our replica functions just like the originals (except it cannot fire), pull the trigger and the hammer snaps and the barrels rotate.