Products tagged with 'officer's sword'
#500586
The fully approved government specified US Air Force Officers Sword has a highly polished stainless steel blade.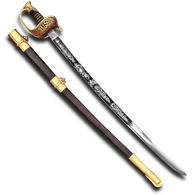 #500124
Finely etched and ornamented, reproduction sword from the civil war era has a hand-forged blade. Leather handle is wire wrapped.
#500006
This faithful reproduction of the Boyle, Gamble and McFee sword is a beauty! The blade etching is even more detailed than on the old ones, with the heroic "C.S.A.", cannon and battle flag all well done. The brass fittings are beautifully hand finished with precise detail.