Pipes and Smoking Accessories
Find an assortment of tobacco pipes to complement your attire.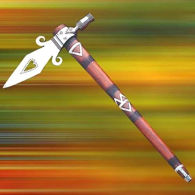 #600244
This tomahawk is hand-forged with a high carbon steel blade. Handle has cross-hatched bands and metal inlays. Overall 22 inches.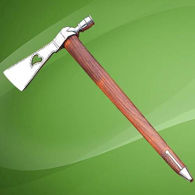 #600198
This bleeding heart tomahawk pipe is hand-forged with high carbon steel. The blade and pipe bowl are indented with a dot motif. Steel mouthpiece.
---
Top Customer Reviews
Review of: Spontoon Tomahawk Pipe
Solid hawk, bigger than it appears in the picture. Feels great in the hand and the finish is good enough for it to be a wall hanger.
As a pipe, there is SO much cosmolene, etc, in the pipe that I am not sure the 'ooverseas metal flavor' will ever be out of it, but it WOULD work if I wver was hard up enough for a pipe to try it!
Reviewed by: Michael

,
October 08, 2015