Utilizing many of the actual props and pieces from the blockbuster motion pictures and hit television series, Atlanta Cutlery uses all of the talented technicians at their disposal to bring these pieces of fantasy to living reality. Every piece is replicated as close to the original prop as possible, which allows you to own these faithful replicas, many of which are stored in film vaults around the world.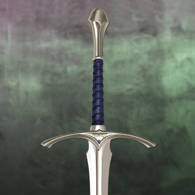 #501424
This authentically detailed replica is a reproduction of the actual filming prop built used in the motion picture "The Hobbit: An Unexpected Journey". The Glamdring sword has solid metal hilt parts, faux blue jewel gemstones and a genuine leather-wrapped grip. It includes a wood wall display and certificate of authenticity.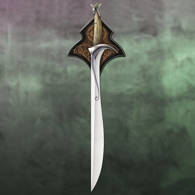 #501426
This fantasy sword features a tempered AUS-6 stainless steel blade with an etched runic inscription. The hilt is crafted with solid metal parts, simulated gemstones and an acrylic resin grip. It is presented with a wood wall display with silk-screened graphic and includes a certificate of authenticity.