Products tagged with 'ray skin katana'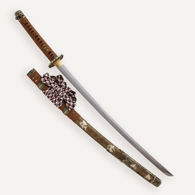 #501515
This gorgeous samurai sword has an attractive floral motif is throughout its design on the cast metal guard, menuki, kashira and saya. Hand forged with incredible craftsmanship, the Damascus steel is razor sharp and has a real ray skin handle that is wrapped with brown cotton. This sword can be used for training and cutting.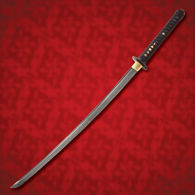 #501516
This sword is light and well balanced. The razor sharp Damascus blade is hand-forged, the handle has genuine ray skin and is wrapped with black, Japanese purpose silk. The tsuba is a solid zinc alloy been painted with a rich, black finish. Comes with matching wooden scabbard, enameled with a dark, faux ray skin finish.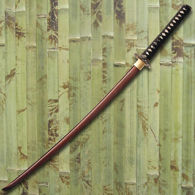 #501420
This katana features a very unique Damascus steel blade that has been colored a stunning coppery red color. Features real ray skin grip, traditional cotton wrap and solid metal tsuba. Includes wooden, lacquered saya and cotton sword bag.