AtlantaCutlery.com replica coins are great for teachers, collectors and children. They are great for that "finishing touch" for your costume as well.
We specialize in replicas from the rarest and choicest as coin experts and historians, including Confederate coins, Shipwreck Pirate Coins, and Coins of the California Gold Rush.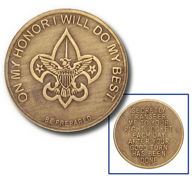 #804772
This historical collectible is made of solid metal with an antique brass finish and was used in the early to mid-1900's by the Scouts.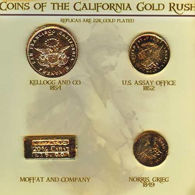 #802261
This set features Kellogg and Co 1854, US Assay Office 1852, Moffat & Co bar, Norris Grieg 1849. With the inconvenience of trading gold, coins were a logical choice. A beautiful historic set that traces our history and defined early exploration of this "New World." Perfect for collectors and educators to bring history to life.
---
Top Customer Reviews
Review of: Boy Scout Pocket Coin
I was a Boy Scout when I was younger. I never knew that there was such a coin, before I saw the one offered by Atlanta Cutlery. I like the idea. I wish that I had one when I was a boy. This would make an excellent gift for any young Boy Scout. I like the concept.
Reviewed by: Sherwin

,
February 15, 2019