Products tagged with 'replica daggers'
Explore our collection of museum quality replica daggers based directly on storied originals of various periods in the history including World Wars I and II. These replica daggers offer a piece of history and make outstanding conversation pieces and gifts.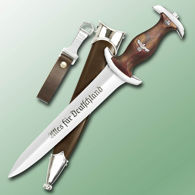 #420016
An exacting replica made of high carbon steel blade. It features a SA runes button, a high-necked grip eagle, a typical RZM grip and gray nickel-plated surfaces.