Atlanta Cutlery carries self defense batons, neck knives, canes that are perfect self-defense weapons for seniors and can be used as home protection weapons, and other self-defense weapons for women and men. You can walk with confidence with our quality weapons designed for your protection.
Many are lightweight and easy to carry and engage in an emergency. So whether you are looking for the best self-defense weapons for cars, self-defense weapons for runners or even self-defense weapons for the disabled, we may have something for you in our collection.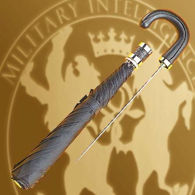 #600040
This patented sword umbrella opens quickly and has a hidden 10" blade which can be drawn with the umbrella open or closed. Umbrella is 18-1/4" closed while it telescopes to 28" overall.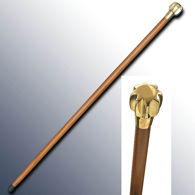 #600728
Walk with confidence and power with this cane! Simple and good looking, the stout solid hardwood shaft is topped with a heavy solid brass knob fashioned after a medieval mace head. Weighing 1 lb. 4 oz. it's also a no nonsense 36" long walking stick.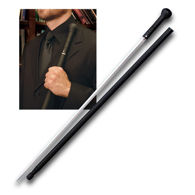 #600180
This cane features a full-length rapier blade in high carbon steel. The grip and pommel head are solid aluminum. Non-slip rubber tip. Overall 36 inches.