Products tagged with 'sharpen'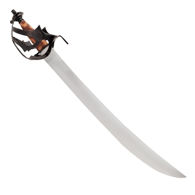 #501690
This cutlass has a cut-out guard that allows this sword to be used right or left-handed. The grip has been covered in ray skin and the steel fittings have been expertly blackened. It has a wide, curved high carbon steel blade, and includes a leather scabbard and adjustable suede side baldric.
#500360
Our maintz pattern gladius has a wasp waist, long, pointed high carbon steel blade, faux ivory grip, and ornate brass applique on the scabbard. This style sword combined cutting power with stabbing ability in one handy weapon which conquered most of the known world.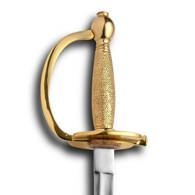 #500350
The single edged blade has a single broad fuller running from the ricasso to near the point. The entire hilt is cast brass and the grip is ribbed. Pommel is global with a capstan. Grip is flanked by kidney-shaped hand guards.