Sword canes are elegant, functional and can save your life if need be. There is confidence that comes from having a good blade at your side and we have many to choose from.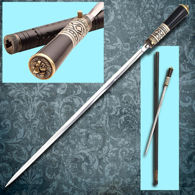 #600970
This deadly sidearm is one of the most beautiful sword canes ever produced by Windlass Steelcrafts. The highly detailed hardwood shaft has been black enameled and is accented with a hand-carved bone ring and topped off with actual horn. The end has a lion's head firmly mounted as a cap.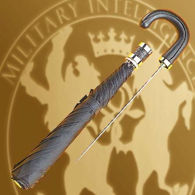 #600040
This patented sword umbrella opens quickly and has a hidden 10" blade which can be drawn with the umbrella open or closed. Umbrella is 18-1/4" closed while it telescopes to 28" overall.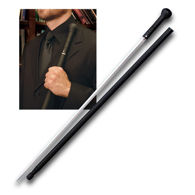 #600180
This cane features a full-length rapier blade in high carbon steel. The grip and pommel head are solid aluminum. Non-slip rubber tip. Overall 36 inches.