Knife throwing is an inexpensive, fun game that almost anyone can participate in. It's a challenge that never gets boring. Whether you throw for sport or fun, you'll find an assortment of well balanced throwing knives at Atlanta Cutlery.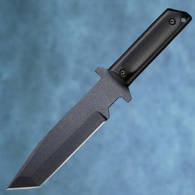 #403177
This Cold Steel knife had a broad Tanto point blade and Polypropylene handle scales. Heavy, sharp and wonderfully balanced, it's easy to throw by either the blade or handle and it hits with real vigor. In a survival or self-defense situation, it can be quickly and easily converted into a spear or war club. Just remove the handle scales and lash the blade securely to a suitable wooden shaft! Comes with Secure-Ex sheath.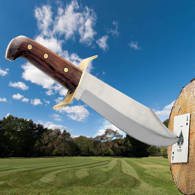 #400794
This massive throwing Bowie is tough enough for hours of target practice. Stainless steel blade, smooth rosewood handle scales and solid brass cross guard completes this classic 19th century style knife. Comes with a leather scabbard.