Throwing knives can be a fun and rewarding hobby. Building hand-eye coordination and providing a social experience that is fun to share. Whether you are a beginner or a seasoned thrower we've got options for you. Commonly made from a single piece of tempered steel, the blade is sharpened just enough so it can 'bite' or stick into the target while the grip gives proper counter balance for the rotation and of course an area to grab to allow the knife to be safely handled. These knives are specially designed and weighted to be thrown.

A balanced knife's center of gravity is at its center. This will follow a near circular trajectory in flight for a truer, more consistent path. Plus, balanced knives can be thrown from the handle as well as the blade and it is easier to change from one balanced knife to another. There is no need to adjust your throwing style or distance. Your enjoyment of the sport can depend on your tools, we'll make your choice easy for a great overall experience.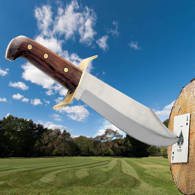 #400794
This massive throwing Bowie is tough enough for hours of target practice. Stainless steel blade, smooth rosewood handle scales and solid brass cross guard completes this classic 19th century style knife. Comes with a leather scabbard.