Products tagged with 'tree ornament'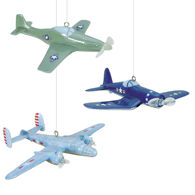 #805423
This set of three legendary WWII warplanes can hang anywhere you like. Included is a B-25 bomber (which actually looks season appropriate with its snowy blue and white color scheme and peppermint striped tail sections), a Mustang, and a Corsair. Made of resin and hand-painted.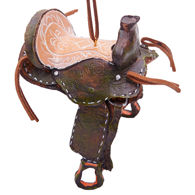 #805425
Cowboys and Cowgirls, hang this saddle on your cactus, er, Christmas Tree this year. Hand-painted resin is detailed with "tooled" patterns and has real leather accents and a leather hanger.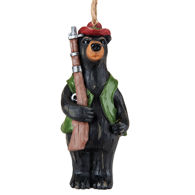 #805422
This whimsical ornament reminds us that we must defend our right to arm bears. Nattily attired in a red hat and green vest, this black bear has figured out the easy way to hunt for dinner. Perfect for hunters or animal lovers.