ACC is happy to bring iconic vintage signs and posters from different points in our past that had historical significance. From outlaws of the Old West to WWI and WWII propaganda signs, you'll find a unique way to decorate and remember (and you may even find a bit of humor). From parchment to metal signs, wood signs and tin alloy, the antique look in this collection is really an eye-catcher and adds an air of authenticity to these detailed, exacting replicas.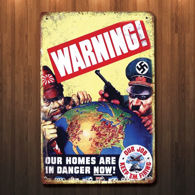 #805205
This fantastic replica propaganda tin sign shows the Axis powers trying to take over the world. Perfect for your man cave or collections area.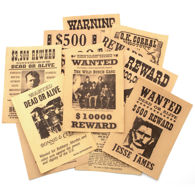 #804584
This 12-poster set of replica historical Wanted, Reward & Warning signs features legends like Butch Cassidy, Jesse James, Sam & Belle Starr, and Bonnie and Clyde, all on quality parchment paper.