It's that time of year again when the nights get colder and the days are shorter. But we are working overtime and dropping prices to all new incredible lows in our clearance sale!
But that's not all. Now, you'll get FREE shipping on all orders above $99.00!
So what are you waiting for? Start shopping now! Hurry, sale ends Feb. 3rd!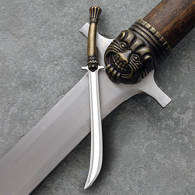 #884022
This scaled replica of The Valeria's Sword captures every detail from the 1982 Conan the Barbarian movie. It is cast in solid metal and includes a wooden presentation box.