Atlanta Cutlery's licensed products and movie replicas bring to life the most unforgettable and best-loved characters and scenes from blockbuster movies over the years. These truly masterful reproductions are exact replicas of what was used by legendary heroes on-screen from movies such as The Lord of the Rings and Conan the Barbarian.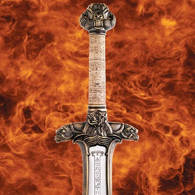 Conan the Barbarian is the epic tale of child sold into slavery who grows into a man who seeks revenge against the warlord who massacred his tribe.

A barbarian trained in the arts of war joins with thieves in a quest to solve the riddle of steel and find the sorcerer responsible for the genocide of his people in this faithful adaptation of Robert E. Howard's sword and sorcery adventures. This film briefly sparked a wave of fantasy films including the sequel Conan the Destroyer in the early 80's. 

From the blockbuster motion picture comes this officially licensed collection of swords. Hand-forged from 1085 high carbon steel and tempered to 52 HRC for strength, these swords have been expertly reproduced by the master craftsmen at Windlass Steelcrafts, as exact replicas of the swords used on screen. From the intricate details on the guards and pommels, to the deep runes on the powerful blades, these are truly masterful reproductions. Comes with a Certificate of Authenticity.

© 2011 Conan Properties International, LLC.  Conan ®, Conan the Barbarian ®, and all related logos, characters, names, and distinctive likenesses thereof are trademarks of Conan Properties International LLC unless otherwise noted.  All Rights Reserved.  Museum Replicas Limited Authorized User.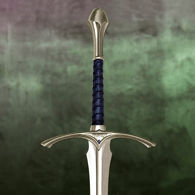 Find a selection of the best swords and other weaponry from the The Hobbit and The Lord of the Rings Trilogy. At Atlanta Cutlery you will find the weapons of Thorin, Gandalf as well as the memorable arms of other characters from Middle Earth, all recreated for your collection of cinematic legends. On offer are the Orcrist, the legendary Elvish blade that Thorin claimed for himself; the Sting, the blade that Bilbo Baggins acquires around the same time that Thorin claims Orcrist and Gandalf claims Glamdring (which is also available here). Each of the blades, axes, and staves that you will find here are made from the finest materials, and each one is made to look exactly like its on-screen replica. And more than just swords from the Hobbit, you will also find swords from the Lord of the Rings trilogy here, too, allowing you to own the arms of the warriors who came later, too!