Atlanta Cutlery carries quality helmets for World War enthusiasts.  Our high-quality reproductions are made just like the originals.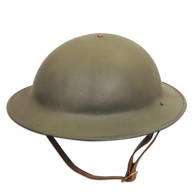 #720036
This 18 gauge steel shell replica helmet is made to the same specs down to the string, metal and adjustable coated canvas liner. Great for display or reenactment.
#720033
This replica US Mark V Divers Helmet is a stunning nautical decor item. Our version of the Mark V WWII era Helmet takes a little license in the design to ensure awesome looks over traditional diving function. Made entirely of antiqued aluminum which ensures a nice aged patina for years and a reasonable weight. It features real glass port hole windows and the front plate swings open on this stunning display piece.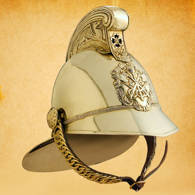 #300200
This style of brass helmet was first introduced in 19th century Victorian England and saw active service through WWII. Features a flourish of crossed axes and fire hoses ringed with a floral motif. Brass-scaled chin strap.
---
Top Customer Reviews
Review of: WWI Doughboy Replica Helmet
This helmet is the most faithfully done replica. I'm quite impressed with the inner helmet liner.
Reviewed by: Neil

,
February 01, 2020