One of the most famed guns in history and one we've become very acquainted with from the antique firearms brought over from Nepal by Atlanta Cutlery Corp (ACC). As a result of having Martini Henry originals in hand we've been able to make offer original and accurate replicas of parts, accessories and stocks to help you fix and maintain this iconic firearm.

Used by the British Army it first entered service in 1871. Martini–Henry variants were used throughout the British Empire for many decades. It combined the action first developed by Henry O. Peabody and was improved by the Swiss designer Friedrich von Martini, which combined with the barrel rifling designed by Scotsman Alexander Henry. The Martini was designed from the outset as a breechloader and was both faster firing and had a longer range than previous firearm designs. 

There were four main versions of the Martini–Henry rifle produced from the Mark I (released in June 1871), Mark II and Mark III, to the Mark IV. The Mark IV Martini–Henry rifle ended production in the year 1889, but remained in service throughout the British Empire until the end of World War I. Some were even spotted in use by Afghan tribesmen as late as the Soviet invasion. A testament to its quality and function.

During the Martini–Henry's service life the British army was involved in many colonial wars, most notably the Anglo-Zulu War in 1879. The rifle was used in the Battle of Isandlwana, and by the company of the 2nd Battalion, 24th Regiment of Foot at the battle of Rorke's Drift. Immortalized in movies a brave band of 139 British soldiers successfully defended themselves against several thousand Zulus. The weapon was not completely phased out until 1904.

The products in this category can be mixed with original pieces from Martini Henry's as well which is a gold mine for the discerning collector.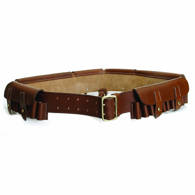 #802273
Bandoliers were often issued to soldiers to help in reloading their muskets quickly. Worn around the chest, our reproduction is made from top quality leather.