20% Off Special Selection
This Special Sale was ended on 31st of December. Don't worry, now you can explore interesting deals in our Limited Specials Section.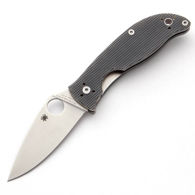 #404315
This knife has a leaf-shaped blade crafted from CTS® BD1 stainless steel and a non-slip, textured gray G-10 handle scales. Features Liner Lock mechanism. Overall: 7.81 inches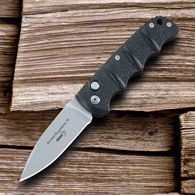 #403207
This tactical knife is made of tough AUS8 steel, sports blackened aluminum scales on a textured, non slip grip. Overall 7-5/8 inches.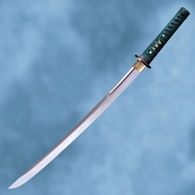 #501249
This classic Japanese battle sword has a thick, wide, heavy and curved 1055 carbon steel blade. Handle features teal-green silk cord-wrap and black samé (ray skin) with black iron furniture. Comes with two protective bags. Overall 31-1/2 inches.
---
Top Customer Reviews
Review of: Dragonfly Wakizashi
Great workmanship, balance, edge and perfect reproduction of "old" wakazashi, i.e., pre-nineteenth century.
Reviewed by: Harold

,
September 01, 2012