Ek Commando Knife Company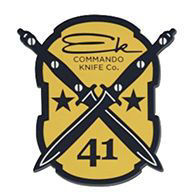 Americans have carried Ek Commando Knives in World War II, Korea, Vietnam, the Gulf War, Afghanistan, Iraq, and countless other locations in between. John Ek's knives have been manufactured since 1941 and are battle proven. They have been carried by Allied Commando units, US Marine Raiders, Rangers, First Special Service Force, and British Commandos, all highly respected for their hand-to-hand combat and knife fighting abilities.
John Ek's knives live on today through Ek Commando Knife as a testament to his ideas, skills, and unflinching patriotism. Proudly manufactured in the USA.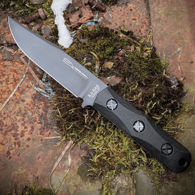 #404655
Made in the USA, this knife is from the fabled John Ek Commando Knife Company (now a subsidiary of the equally fabled KA-BAR). The Viet-Nam era beveled grip design is constructed of indestructible Ultramid polymer, affixed with Ek's traditional trio of large screw rivets. The modified clip point, 1095 Cro-Van steel blade is parkerized and has an integral finger guard. It's also shorter than the original blade to be more versatile for practical use. Celcon sheath has a belt loop and is MOLLE compatible.