Products tagged with 'pocket pistol'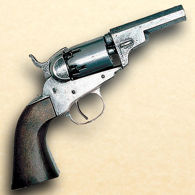 #803494
The Pocket Navy retained the octagonal barrel and traditional loading lever of the earlier pocket model but was up-sized to .36 caliber just like the Pocket Police. This Navy replica features working hammer, trigger and cylinder.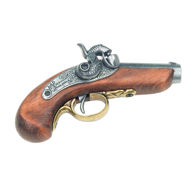 #802136
Infamously used by J. W. Booth to assassinate President Abraham Lincoln and made famous by riverboat gamblers and "shady" ladies of the evening in the early to mid 1800's… personal protection in an easy to conceal package. Our wood and metal reproduction features a hammer that cocks and a trigger that works… but it can never fire.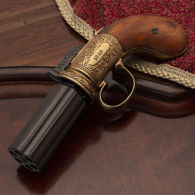 #801894
Designed in the 1830s, the Pepper Box revolver was the ultimate choice for rapid-fire, close-range personal defense. Our replica functions just like the originals (except it cannot fire), pull the trigger and the hammer snaps and the barrels rotate.