A Bowie knife in the town of Bowie, Texas has made it to the Guinness Book of World Records. No, this one you cannot carry in your pocket. This knife is 20 feet long with a 14 foot plus stainless steel blade, features a gigantic handle made from a Bodark tree and weighs a cool 3000 lbs! The Bowie is modeled after Jim Bowie's original knife, which means it has the brass hilt, wooden handle and the famous clip point. It was officially recognized as the biggest Bowie knife in the world in 2017 and required a crane to install.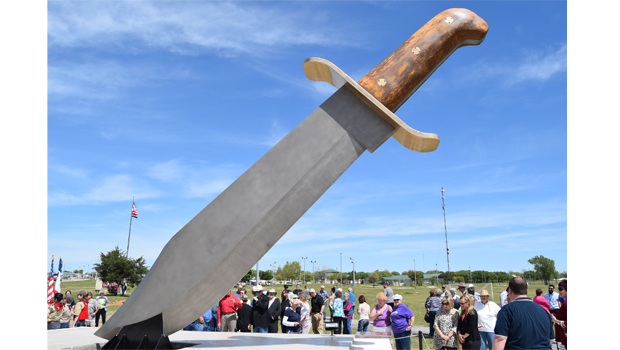 Building this Bowie knife was no easy matter and necessitated some high-level engineering. For instance, the knife had to be made in such a way so as to withstand normal seismic activity, winds up to 90 mph and an inch-thick layer of ice. The Bowie, which rests on a concrete foundation, has a steel blade that has been hollowed out to make it lighter. And no, the blade has not been sharpened, possibly as a precaution against daredevils who'd want to get to the base of the handle. Also, there is no leather sheath probably as that would mean loss of substantial cattle! All that aside, it is a proper Bowie… just much bigger! The project cost around $170,000 and was funded through private donations with one person contributing $100,000.
Atlanta Cutlery may not have any giant Bowie knives in its catalog but we do carry many a normal-sized and top-quality Bowie knife.