Everything in this category is just the way it sounds. It could be from shifting inventory around, cleaning, or doing inventory. But, in this case, one of our main warehouses was recently rented by a major motion picture studio for stage work and we had to get everything out of there fast!
And we found things, very good things. We're happy to list the items as we come across them and aggressively price them to move. Keep in mind though that the items listed here are warehouse finds and are offered in 'as-is' condition. So, there may be minor dents/scratches, rust, dirt, on them from long-term storage. However, one thing is for sure, they're rare and nothing major will affect their performance once they're finished. Very limited quantities of these old items have been found, so act fast and come back often to check on more finds.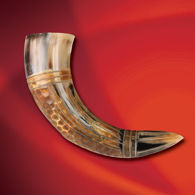 #804521
This horn goblet is handmade with carved dragon scales and features deep etched lines. Approximately 11" tall with a 3" opening. Capacity of approximately 14 oz.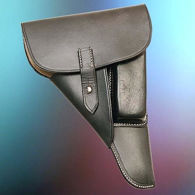 #803143
This is a perfect replica of the German Soft Shell P-38 Holster in black leather with a spare magazine pouch and SS Markings duplicated on back. Ideal for re-enactors and collectors.