If you're like us you not only want to be well prepared for what life throws at you every day, but have fun and look cool doing it. Here are 5 must-haves that will make your life a bit easier and more entertaining.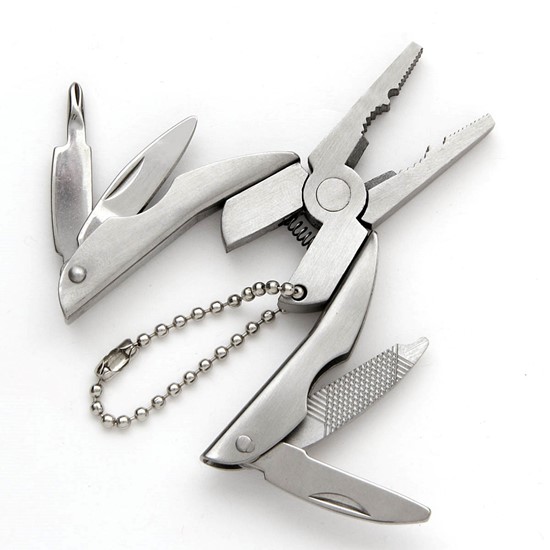 This Bug Multi-Tool has 6 handy tools in a compact design which is small enough to fit on a keychain. Made of high-grade stainless steel featuring a knife, Phillips screwdriver, pliers, wire cutters, flat screwdriver and a file. Includes ball chain to attach to a keychain. Seriously you can take and use this almost anywhere.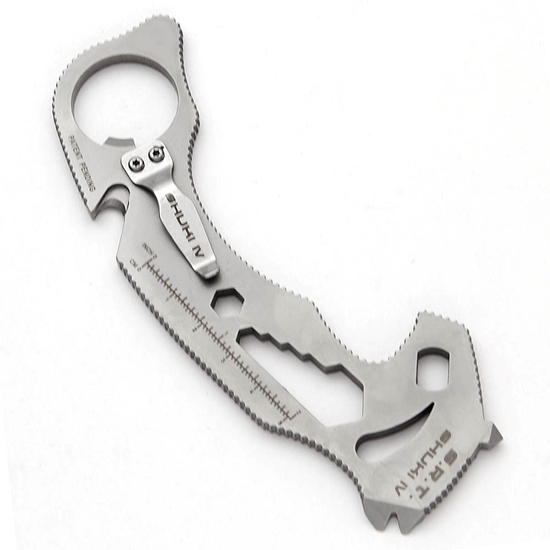 An incredible multi-tool for survival and rescue. The components allow for quick access to a variety of well-placed traditional tool options with design consideration for proper leverage and control, from opening a bottle cap to tightening a bolt. It's great for quickly and easily accomplishing everyday tasks. You'll want to take your new S.R.T. Shuki IV tool with you everywhere, so you can save the day, either by quickly completing a home project or by adeptly handling a more dire circumstance. Solid stainless steel. Silver or black.
Features:
Hammer Strike Glass Breaker
Oxygen Valve Opener
Wire Stripper
Gradual Hex Driver
1/4" Nut Wrench
Self Defense (pressure point control)
Bottle Opener
Seat Belt Cutter
Ruler
Gripper
Box Cutter
Kinetic Spin Glass Breaker
Nail Puller
Flat Head Screwdriver
Wow, all that for how much? I'll take two. Easily fits in a pocket, purse, glove box, etc.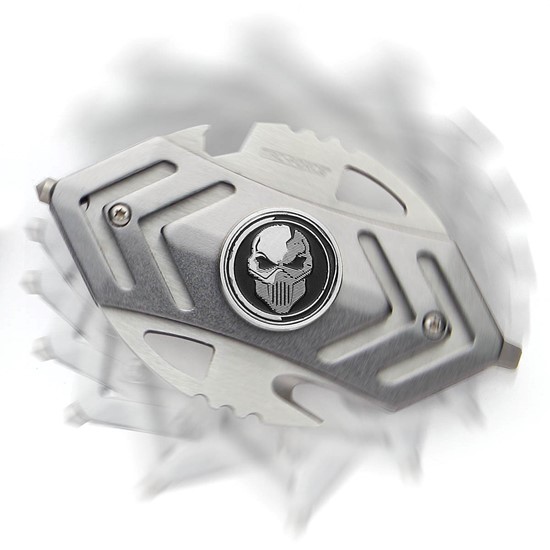 Glass breaker, seat belt cutter, screwdriver, bottle opener, and wait for it...fidget spinner! Addictive and handy, you won't be caught unprepared for an emergency or be bored again! Solid stainless steel with a skull on the pivot. A bit mesmerizing to play with and really works as a tool.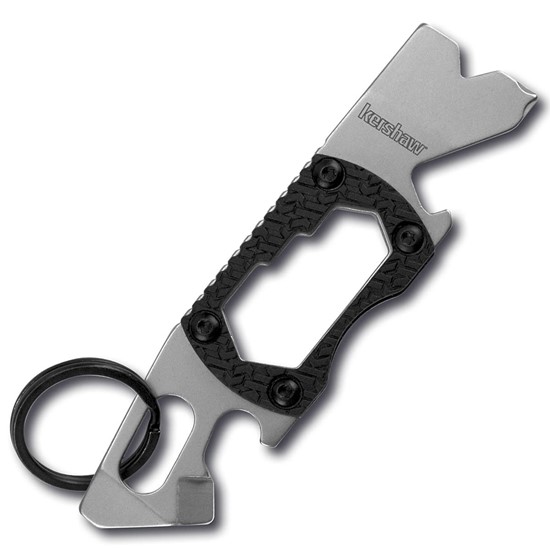 Key chains just got handier with the PT-2 key chain tool. Offering eight handy functions in a compact space. Weighing less than an ounce it offers a bottle opener and cap lifter, a pry bar, two screwdriver tips, a wire scraper and 3 sizes of hex drives. And because it's a real tool, it's quality 8Cr13MoV stainless steel with an attractive bead-blasted finish. For good grip it features a handle overlay in glass-filled nylon with a K-Texture pattern. Just use the lanyard hole to attach to your key chain.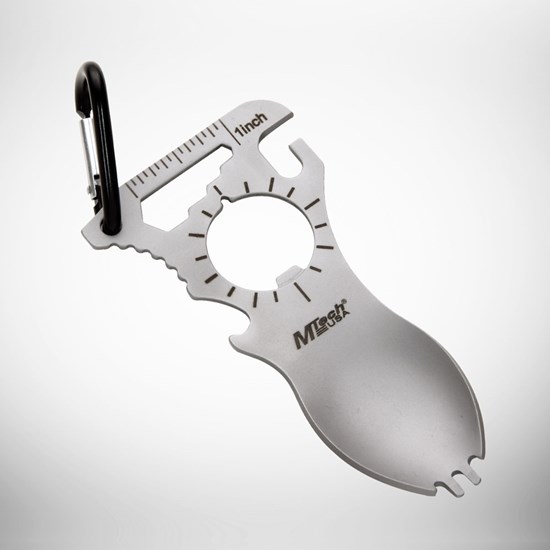 It''s true; great things can come in small packages! This one-piece of stainless steel is a bottle opener, can opener, spoon, fork and wrench in one, and on a carabiner for multiple carrying options none-the-less. Great for picnics, hiking, camping, car, almost anywhere the need for these tools arise.
So you see, it's incredibly easy, convenient and affordable to be prepared. You just ran out of excuses. But if you already have a trusty tool these make great gifts for those that aren't as prepared as you.
Related blogs - https://www.atlantacutlery.com/5-of-the-best-neck-knives-for-everyday-carry