Products tagged with 'nepali kukris'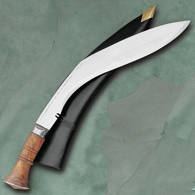 #500448
This kukri is hand forged from high carbon steel with a polished steel blade measuring a staggering 3/8" thick and more than 2-1/2 feet long. Features a specially carved native hardwood handle. Includes a regulation sheath.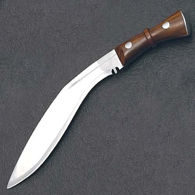 #400484
Genuine military issue to Gurkha Regiments in India. The blade is an impressive 1/4" thick with deep grooves and the traditional religious notch. Takes a good, sharp edge. Scale tang. Traditional, native hardwood handle. Standard metal butt plate.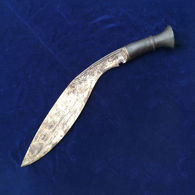 #401124
This Longleaf battle kukri has a straighter spine and longer blade than Bhojpure, and in the skilled hands of the Gurkha it became a frightening weapon indeed. These have all seen service with both the Nepali military and the British Army. All of the blades are marked in Devangari script with the date of manufacture.