Products tagged with 'tactical sword'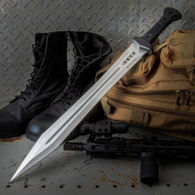 #501826
There is no better fusion of traditional ideals with modern innovation than the Honshu Gladiator Sword. It has a sharp, stainless steel blade with a fuller and weight-reducing thru-holes. The textured and ridged, injection-molded TPR handle gives you a secure, slip-free grip even when the conditions are wet.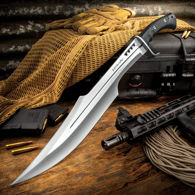 #501828
This reimagining of an ancient weapon has a full-tang, stainless steel blade that has a phenomenally sharp blade that features a classic blood groove and modern, weight-reducing thru-holes in the spine. The hefty stainless steel guard is curved back toward the handle, giving your hand a sturdy buffer and assisting in firming up your grip when using the knife. The ergonomic, TPR injection handle is tough and grippy with finger grooves and a textured pattern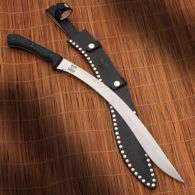 #403158
Based on the ancient Greek Kopis, this Windlass Cobra Steel sword has tremendous chopping power. Features weather resistant rubber handle for comfort, positive grip and shock absorption on a full profile tang. Factory sharp, includes riveted black leather sheath.